High Power Solid State RF & Microwave Amplifiers 10 GHz and below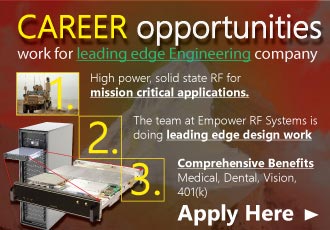 Search for Amplifier by Parameter
Enter 1 or more parameters and click search button:
Search for Amplifier by Part

ELECTRONIC WARFARE
[ Force Protection And Threat Simulators - Manpack, Vehicle, Fixed Site ]
Our remarkable hardware and software architecture is advanced beyond any other amplifier supplier and offers break through capabilities not seen before in EW systems. Amoung these capabilities are Multi-domain operations where a single unit is capable of operating in Multi-Domain scenarios as a jamming, communications and radar transmitter at optimal performance with any type of modulation.

Military Amplifiers
---

COMMUNICATIONS
[ Military, Government agency, Tactical radios, Networks ]
Empower is a major leader in providing leading edge, "Best in Class" power amplifiers for command and control communications for the warfighter, civilian and homeland network applications. These multi-band, multi-mission, highly integrated amplifiers are designed for software-defined radios in manpack, vehicular and fixed site configurations.

Communications products
---
TEST AND MEASUREMENT
[ Power Amplifiers for Radiated Immunity: EMI, EMC - Scientific ]
EMC compliance labs are choosing Empower RF for its technology advancements that have leapfrogged the old establishment while offering refreshing and long overdue performance and feature set enhancements. We provide best in class RF and Microwave amplifiers that go beyond 200V/m CW and 600V/m pulsed for todays demanding Radiated Susceptibility testing requirements.

Radiated Immunity Testing products
---

RADAR
[ Ground based, Shipboard and Airborne (Including UAV) ]
We offer a wide variety of power amplifiers as stand alone or high power tube drivers up to several kilowatts. Radar applications include HF for over-the-horizon (OTH), VHF for very long range and ground generation and UHF for very long range (e.g. ballistic missile early warning) and foliage penetration (SAR). Empower has also provided amplifiers in L-band for long range air traffic control and surveillance (IFF) as well as S-band for moderate range surveillance and long range weather.

Radar Products
Latest Updates
Liquid Cooled Power Amplifiers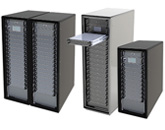 Liquid cooled SSPA's deliver hundreds of kilowatts of scalable pulse and CW power. Narrow and broadband configurations are available from UHF to X Band CW or Pulsed. The architecture is the same regardless of frequency – RF configurations driven by output power requirements. Each amplifier drawer is fully "hot swappable" with proven dripless technology.
4KW S Band SSPA for Satcom Uplink

Empower's model 2176 is a compact high power GaN on SiC solid5 state CW amplifier. Standing 27 inches tall, it's less than half the size of the typical legacy uplink HPA's that it replaces. The slightly broader band brings flexibility to transmit in either of the two uplink channels. Besides the dramatic size reduction, the upgrade from legacy design to a next genation SSPA brings greater reliability.
600-6000 MHz 30W GaN Module

Model 1219 is a single band solid state GaN module delivering a minimum 30W (40w typical) across its entire .6 to 6 GHz band. Empower RF is the first amplifier manufacturer to cover this bandwidth with an affordable COTS product. The 1219 utilizes 50V GaN on SiC transistors which have lower leakage currents and higher thermal conductivity and is a more reliable than GaN on Si.
2KW L Band Solid State Amplifier for GPS Denial and Threat Simulation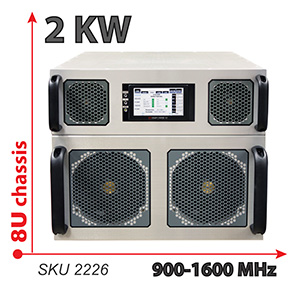 Empower's model 2226 is a compact high power GaN solid state CW emitter designed for GPS denial and is based on the established and field proven Next Generation system architecture. This architecture is tactically deployed and operating on multiple levels in support of a variety of critical DOD missions.
High Power RF Amplifiers with stop frequencies up to

500 MHz

1000 MHz

2500 MHz

6000 MHz